The recent COP26 climate conference certainly caught the media's attention and it's true that being kinder to the environment is becoming more of a priority for many of us. At The Charlecote Pheasant, we've been noticing a shift towards eco-friendly weddings and events for some time. In fact, working in a more sustainable way is something the Hotel is championing across the board. From our vegan menus to locally sourced foods, and a pledge to reduce plastic waste. Just some of the steps we're taking to lessen our impact on the environment. But when it comes to weddings, we're adamant that environmental wedding ideas should not impinge on the luxury feel of the big day. So here, wedding coordinator, Amelia, shares her eco-friendly wedding tips on how to reduce, reuse and recycle your way to a more sustainable – and super-stylish wedding day.
She said: "More and more, we're finding couples feel informed and empowered about the environmental consequences of their decisions. And there are some really easy ways to lessen the impact a wedding has on the environment. Try some of these eco-friendly wedding tips to ensure your wedding is sustainable and kinder to the environment."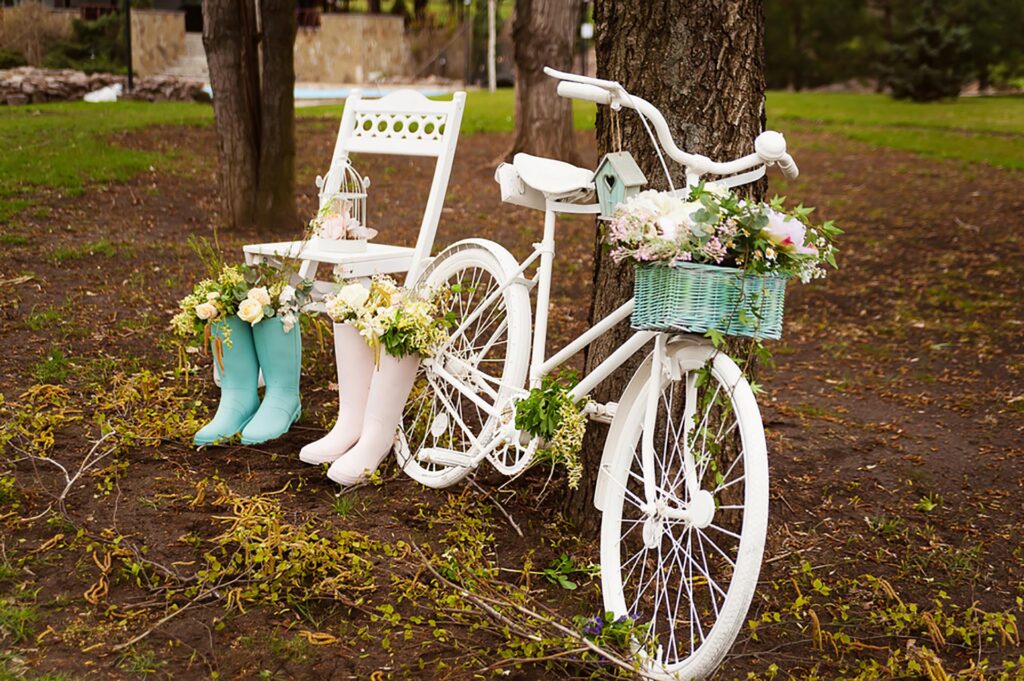 DO THE ENVIRONMENT A FAVOUR
Ditch the plastic wrapped individual presents in favour of something greener, with a little more longevity. Eco friendly wedding favours can include potted plants, which are an excellent choice for limiting plastic waste and adding more greenery to the world. Especially if you double them up as bohemian inspired table centres, then allow guests to take them home.
Along the same line, seeds are another eco-friendly wedding favour idea – you can choose a plant or flower that's part of your bouquet. And every time the plants flower, your guests will remember the celebration of your wedding day.
You can also make your own birdseed favours easily from seed bought from the RSPB or go for 'homemade and handmade'. A small box of homemade truffles or use an iced chocolate bar as both favour and table place marker.
Confetti – no! Unless it's one of the compostable paper varieties!
STAY CLOSE TO HOME
If you're planning a to get married in 2021 or 2022, it might be a part of your plans to reduce your wedding's carbon footprint. And the best way to do that is to get married closer to home, while limiting travelling guests.
Tropical beach weddings are out. Staying local is in. A venue that can host both ceremony and reception is a smart choice as you and your guests will only have to make one journey. And remember that smaller weddings equal less energy and less waste.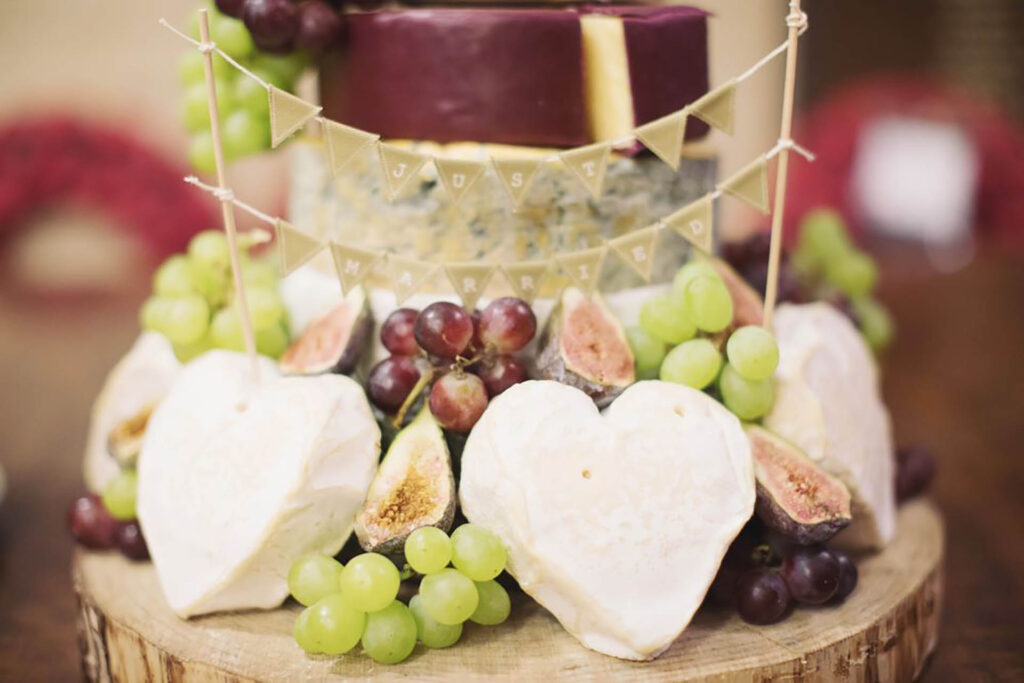 ECO-FRIENDLY WEDDING CATERING
Another way to reduce the carbon footprint of your wedding day is to choose local suppliers where possible, which has the bonus of boosting the local economy.
If you want to go the whole way, then opting for a plant-based menu is brilliant for eco-friendly wedding catering. The number of people going vegan has risen dramatically and 1 in 4 people while not going entirely plant-based have reduced the amount of animal products they are consuming. The Charlecote Pheasant has a range of vegan friendly wedding catering menus to choose from. UK wines are better than ever, and we have vegan varieties too that will set the day apart.
Have your cake and eat it! Choose a local cake designer to bake and decorate with vegan ingredients and icing. Or opt for a cheese tower cake, using your favourite local varieties.
TRY A HYBRID WEDDING
With guests jetting in from all over the world, it can be hard to keep the air miles to a minimum, so that's worth bearing in mind when you create your guest list, but there's no need to completely exclude loved ones from far away.
As an upshot of the pandemic, most venues now have excellent live streaming facilities which allow two-way conversations and could provide the answer to reducing your wedding's carbon footprint.
It's a fine balance of course and you'll need to make some tough decisions about what's your biggest priority. Most people will understand if you explain the reasons you've decided to keep your party smaller. It's just a matter of being open and honest.
To ensure they still feel part of the day, send international guests a 'wedding pack' including some of the themes and gifts from the day – all environmentally friendly of course. You could even include dinner from a local caterer, and have it delivered to their door so they can dine with you remotely and listen to the speeches.
Of course, if you're looking for a local wedding venue in Warwickshire, The Charlecote Pheasant has some fantastic facilities, including a new outdoor event space with luxury, customisable tipi tents.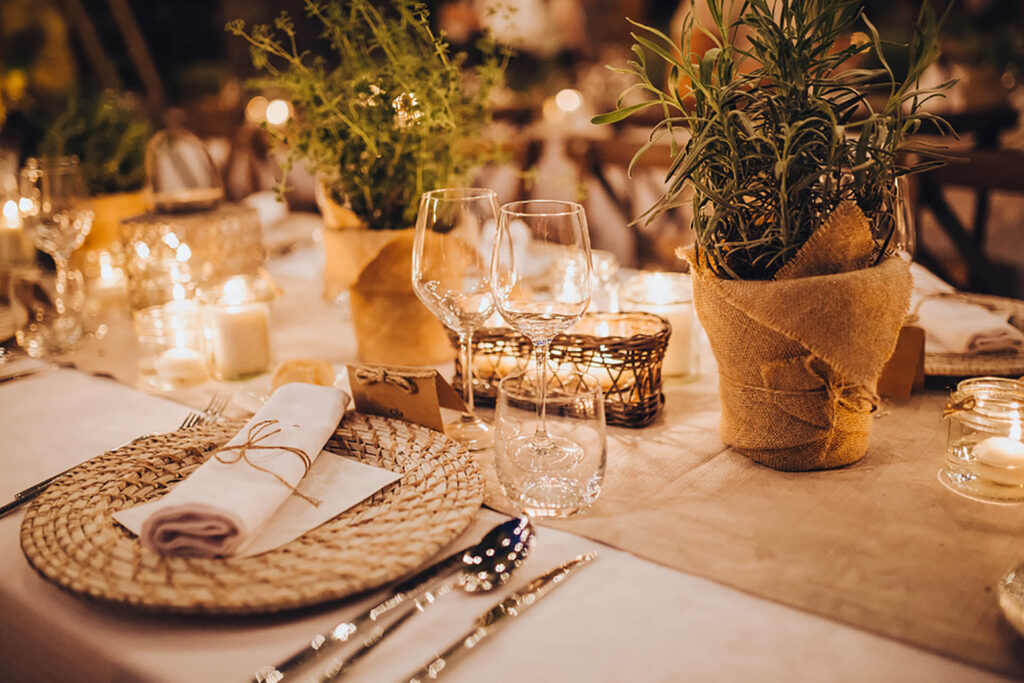 SUSTAINABLE SWAPS
Another way to reduce a wedding's impact on the environment is to incorporate technology. Why not use e-invites instead of paper invitations? Even better create a wedding website where you can share all kinds of useful information with guests – from photos to accommodation and table plans.
And when it comes to lighting – go intimate. Swap electric lighting for an array of candles. Naturally you'll need to check if this is OK with the venue first, but using candles, at least in the centre of tables, allows you to turn off unnecessary lights.
RENT, HIRE AND SHOP PRE-LOVED
Most people are switched onto the idea of hiring morning suits for the groom and groomsmen, but what about the dresses that the bride and bridesmaids will only wear once?
A pre-loved wedding dress or bridesmaid dresses are much more sustainable ways to dress for your big day (and easier on your pocket too). Post-wedding, consider donating your dress to a charity will bring joy to another bride on her big day.
Did you know you can also hire in any element of the day rather than buying once and discarding? From glassware to tables, chairs, and linens everything can be preloved and reused from your day.
The best hire…a bicycle made for two! A great way to get to and from your Warwickshire wedding venue. And a hugely romantic touch.
REDUCE PLASTIC WASTE
Plastic can creep into weddings in lots of diverse ways. From packaging to straws and even hair products or make up. Some ideas to reduce plastic waste at your wedding include swapping plastic straws for paper, creating your own table décor from recycled materials, or doing your own hair and make-up using plastic-free products. You could also ask guests not to give gifts, to avoid the plastic found in wrapping paper and packaging. Or opt for a wedding list at an eco-friendly wedding company.
DID YOU KNOW?
Would you like to recycle your wedding dress? Read some interesting ideas on how to do just that from other brides here: https://metro.co.uk/2021/10/31/eco-friendly-brides-share-how-they-reused-and-upcycled-their-wedding-dresses-15510244/
You can also donate it to charity that makes dresses for angel babies https://dressesforangels.co.uk/
Princess Beatrice paved the way for eco-friendly weddings. When she married Edoardo Mapelli Mozzi in 2020 she was the first royal bride in history to wear a secondhand dress. Read more details on her wedding here: https://www.hellomagazine.com/brides/20210928122735/princess-beatrice-eco-wedding-sign-of-change/